From Jane May 2012: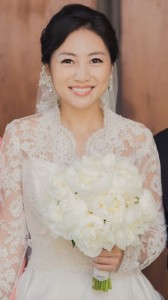 I had the most gorgeous wedding flowers, thank you so much Flower Allie!
PERSONAL FLOWERS My gorgeous fluffy bouquet of peonies (with subtle sprigs of other little goodies) was even more dreamier than i could have ever imagined. it maintainted it's shape laying on its side throughout most of the ceremony, and survived violent swings by yours truly. Allison tied it together with a lovely satin ribbon, overlayed with white lace, and pinned down with pearls.. can ut get any more bridal??! the girls bouquets were absolutely darling, with different roses including the very highly sought after juliet garden roses & my favorite floppy white flower (i think sweet peas??) poking out. all the bouts were very wedding, yet modern & whimsical. the mothers and grandmother got a more traditional & substancial orchid corsagem while the sisters had a delicate mini rose corsage. they all held well thru hundreds of hugs. everyone just looked so dashing!
CEREMONY FLOWERS i had 2 large arrangements placed at the front of the church. gorgeous tall calla lillies with a fluffy arrangement at it's base. it really gave the church (which is huuuuge) a weddding feeling without breaking anybody's budget. i was away for the honeymoon, but i've heard from the congregation that everyone's been enjoying the arrangements for the past couple weeks!! these flowers laaaast~~!!
RECEPTION FLOWERS i had guest book table arrangement, escort card arrangements, dessert table, guest table centerpieces, sweetheart table, the wedding cake.. did i miss anything? the toss bouquet? let's just say that there were flowers everywhere. so glad we decided to pinspot the centerpieces, they were absolutely gorgeous! The more traditional centerpieces were mono-arragements of callas, tulips, peonies, & roses accented with gold mercury glass tealights. so grand, so wedding! The fun centerpiece was tall floating candles highlighted with several bouquets of my bridesmaids flowers in gold mercury glass. similiar arrangements were at my sweetheart table, & i looovelooooved them! they're so photogenic! everything was designed with Allison, she's awesome. Ooh, & my wedding cake was ordered plain but with Allison's perfectly placed flowers it looked divine.
everyone loved the flowers, i loved my flowers *bigbig heart* Plus everything was created without budging the budget not even a cent!! i did add additional arrangements, & even requested a last minute bouquet for the ceremony just 36 hours prior to the wedding!! Allison saved the day, and without charging me extra. She and her team honestly worked magic to deliver more than i can ever expect, and did it with so much enthusiasm and care. Words just can not do justice for the product, service, and professionalism we've received. if i was to do it again.. hands down, it'll be Flower Allie!
From Bre July 2012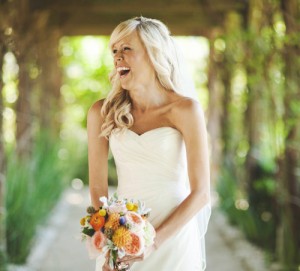 Flower Allie lives up to it's positive reviews. Nick is amazing at what he does, I couldn't have asked for a better match to design our flowers for our wedding. When I intially sat down with him, he just got it… almost like he opened up my mind, reached in, and got my ideas out out of my head. I didn't even look at another florist. He is truly and artist. When I saw his work and my vision come to life on our wedding day, with everything that I had purchased that just looked like jars to me, I was moved to tears by his artistic ability. I was simply amazed with how he put everything together and the final product. Guests were in awe! Thank you Flower Allie and Nick for a wonderful, truly personalized job at our wedding!
From Angela August 2012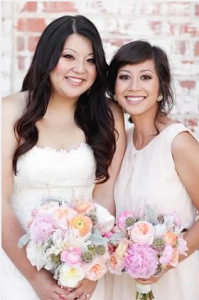 I love Flower Allie. Love them.  To pieces.
Look, I had my mind set on the look I wanted. I wanted fluffy and romantic bouquets with texture.  For center pieces I wanted them low and I wanted lush and romantic florals.  I was looking for someone who understood my low key aesthetic, someone who understood that I was the confusing love child of vintage, rustic, and whimsical goodness.
Enter Allison of Flower Allie.  She understood my look after going thru my pinterest for 20 seconds.  She helped me steer away from the using the now overly used mason jars to something more in line with my personality and my desire to stand out.  With her guidance, we ended up using beautiful crystals and mercury glass vases…and truly it took my breath away. So stunning!  Allison is not a wallflower–she has exquisite taste and is there to help you refine your choices to bring the whole look together.  I had the utmost amount of trust and confidence in Allison and her team.
Come our wedding day–even in the hustle and bustle of taking pictures–I had to stop to look at the florals.  Stunning! Absolutely Stunning!  The table settings, flowers placed all over the house–took my breath away!  And as beautiful as her arrangements were–what she did at the altar brought tears to my eyes.
We got married indoors, but I still wanted to do something very soft and romantic. I showed her some pictures of flowers dangling behind of a dessert table I thought would be great at the altar–and she just took off running with the idea.  And what the team over there at Flower Allie created? I couldn't have pictured anything more beautiful!  So incredibly romantic!
Outside of their tremendous work, I can also tell you that the people there are wonderful!  The team is very thorough!  They got back to me on all my questions in a timely manner and really made me feel well taken care of. Day of, the team that arrived was so incredibly warm! They took time to talk to me about how much they loved the venue and just to wish me well.  They were so incredibly sweet.
Thank you everyone at Flower Allie for creating something so beautiful!
From Danielle October 2013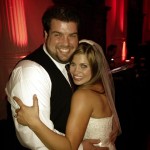 I really don't even know where to begin with how AMAZING Flower Allie was to work with. Nick was extremely helpful, quick and thorough in his responses, and fun and easy to work with! He really listened to what I wanted and made great suggestions that I could never have come up with on my own. And on the day of the wedding? Let's just say I literally burst into tears when I saw what the flowers looked like. I don't have adequate words to describe their beauty.
photo of Nick with Danielle